Mobility Management
While there are significant opportunities to leverage mobile devices to increase the effectiveness of mobile workers, there are also significant concerns about the privacy of corporate data stored on the devices that IT must handle.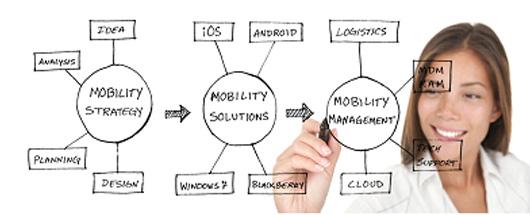 A productive mobile workforce is a strategic business imperative in today's business world. Organizations that do not leverage this emerging trend are at a competitive disadvantage. The benefits of an optimized mobile environment are proven, meaningful to the bottom line and critical for future growth:
Driving customer loyalty
Increased worker productivity
Improved collaboration
Speed of decision making
Business agility
The technology is proven, the benefits are real and the mobile worker has become a critical asset to the organization. Yet the rate at which mobility has emerged has left many organizations trying to balance how to properly enable their mobile workforce and mitigate the risk associated with protecting valuable company data and addressing emerging trends like 'Bring Your Own Device' (BYOD).
CreekPointe's Enterprise Mobility Management (EMM) practice helps:
Understand the value and risk specific to their business
Implement and manage actionable mobility programs
Provide leading-edge tools to manage mobile devices
Address security, policy, and governance
Address emerging trends like BYOD