Virtualization
If you have an IT environment growing at hyperspeed or expanding and contracting nonstop, scaling to meet your computing capacity needs is a given. However, scaling your hardware costs that quickly or that often is not a given.
Fortunately, Virtual Servers make cost-efficient scaling a practical reality. It's a smart approach to hosting – one that constantly helps you better manage your hardware resources. With Virtual Servers, you get the most out of your servers and you only pay for the resources you're using at any given time.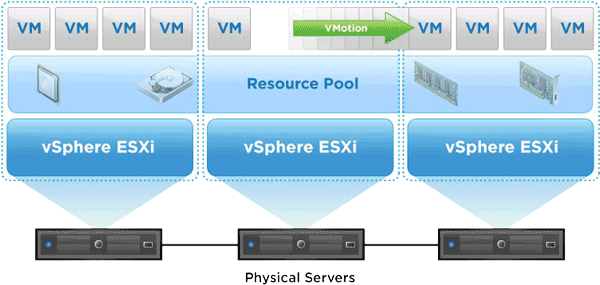 CreekPointe makes sure virtualization works for you around the clock. The physical servers, the virtualization layer, and the virtual machines are all managed by our VMware experts.
The Smart Way to . . .
Scale
Rapid VM Provisioning makes scaling easier and on-demand computing capacity possible so, with predefined Virtual Machines, you can meet your performance and capacity needs at a moment's notice.
The security of Dedicated Virtual Servers removes worries about the compromises, unanticipated traffic spikes, and security breaches that plague some shared virtualization providers.
Automatic recovery keeps you up and running, delivering redundancy by recovering data from a second host machine (multiple servers and SAN required).
Snapshots provide increased data protection during your OS and application upgrades.
Save
Maximize your hardware investment by better utilizing your servers through Virtual Machines.
Pay only for what you use with utility billing that only charges for your Virtual Machines when they are turned on.
Quickly achieve a stable and secure virtualized environment without investing your own time and resources.
Host
The CreekPointe Virtualization Team, staffed with certified VMware Specialists, manages your physical server, virtualization layer, and virtual machines so you can make the most of your solution.
So, you scale with your business and control your budget, all with a solution that delivers the support and expertise your business needs. In short, you accomplish what you set out to do – get your money's worth without making sacrifices.
Are you ready to reap the benefits of virtualization?