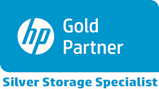 HP Enterprise Solutions
HP is one of the world's largest information technology companies and operates in nearly every country. HP specializes in developing and manufacturing computing, data storage, and networking hardware, designing software and delivering services. Major product lines include personal computing devices, enterprise servers, related storage devices, as well as a diverse range of printers and other imaging products. CreekPointe is proud to be an HP partner for over 15 years. While HPs product line is vast, CreekPointe focuses on the following core solutions:
Servers
HP is the worldwide leader in the server market. From towers and racks, to blades, HP servers are designed for both the small business and large data centers alike. Along with cutting edge technologies, HP provides a myriad of support and management tools with their servers and backs it with comprehensive warranties and technical support. We, at CreekPointe, have a long history of installing and configuring HP servers for our customers as well as providing consulting and design solutions. If you need a mission critical server, HP is the best in the industry.
Storage
Gartner recognized HP's storage solutions as a "Leader" in the industry and has leapfrogged Dell, NetApp, and IBM just in the last year. From the first MSA solutions the latest StoreVirtual and 3Par arrays, CreekPointe has been recommending and implementing HP storage solutions to its customers for nearly 10 years running. HP's award-winning platform beats the competition in critical capabilities for virtualization, OLTP, and all-flash features. It's primary storage for all your needs.
Networking
Providing solutions from enterprise to branch office networking, HP is a market leader in the networking magic quadrant as well. From basic managed switches to high-density distribution switches, HP has a solution for any environment. HP networking switches offer high performance, scalability, and a wide range of features for core to edge connectivity that dramatically reduces network complexity and lowers cost of ownership. CreekPointe has been providing HP network solutions for over 15 years and retains HP certified engineers on staff at all times.
Wireless
For the 3rd consecutive year, HP is recognized as a market leader in the wired and wireless infrastructure magic quadrant. HP's wireless LAN solutions enable you to improve productivity, simplify management and reduce costs with a secure and reliable network that unifies access, scales as needed and optimizes your wireless performance to handle a growing number of mobile devices. From Cloud Managed Networking to wireless controllers and access points, HP has a solution for all of your wireless needs.
Computers/Printers
It's hard to find an area where HP does not excel and computers, laptops, and printers are no exception. CreekPointe has been installing and servicing HP printers, laptops, and computers for over 25 years running. All of CreekPointe's technicians are HP certified and have extensive experience supporting our clients with all of their technology needs.
Contact Us to hear more about our HP Solutions.